Inspired by Sylvia at Orthodox Mom, I'm adding a few more ideas.
When I packed a lunch as a teacher, I often posted what I brought on Wednesdays, so you might find something there -- although those are maybe more geared towards an adult palette and depended heavily on using up leftovers. Another trick is to make a big batch of soup and save it in the freezer in glass mason jars. This works if you have a microwave at work or school.
You know, right, that quesadillas freeze beautifully, if you had a block of time to whip up a dozen or so. These were gluten free home-made tortillas with black beans, diced cooked sweet potatoes, sauted onion, roasted red pepper, and Daiya shreds.
Sylvia offers an entire menu-planning post, and if you scroll down there you'll find some yummy recipe ideas-- surely some of those would make good leftovers lunches! My kids would eat these sliders for lunch and I really want to try this frittata.
Vegan Lunch Box has some ideas, and Anna at PleasantViewSchoolhouse offers these salads: Broccoli Sesame, Fruit & Avocado, Radicchio Slaw, Pear & Hazelnut, Roasted Beets & Orange, Orange & Olive.
In the archives, you can find this
Spinach Queso
recipe, which you could serve with tortilla chips. You could even make your own "Lunchable" with shredded veggie cheese, chips or mini pizza crust, and a
chocolate chip blondie.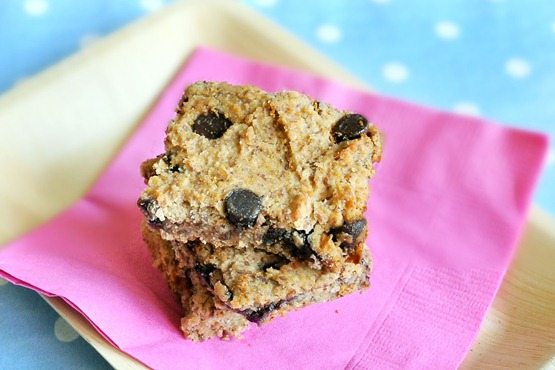 photo courtesy of Chocolate Covered Katie
Taking advice from Melissa, who wrote Fasting as a Family, I try to keep some sort of spread on hand at all times, and then use it in pre-stuffed celery boats, tortilla roll-ups, quesadillas, etc. The idea is to have pre-made veggie boats & roll-ups for a week, already prepped in your fridge, along with prepped fruit too, and in one special place. Then you only have to open that drawer and pull out a few items to stick in your lunch box.
Spreads?
Hummus
or this more simple version but leave out the bacon.
We love hummus at our house - so much so that I've taped the recipe to the inside of the cabinet because I make it so often. And yet, sometimes one wants something different, so I like to have a few options up my sleeve.